I have added more pictures to the Family, Artwork, Trips and Adventures, and Randomness galleries. Enjoy!

Doug and Christy at Bridal Veil Falls, Cow Creek, Rocky Mountain National Park, Colorado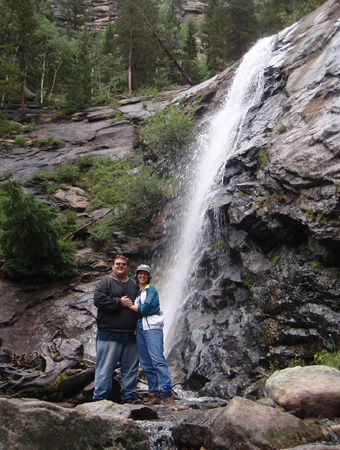 Doug's GPS said it was a .2 mile longer hike than the trail sign, and .4 longer than the map. But we had the place to ourselves, the hike was gorgeous and the small amount of drizzle made everything wet, fresh, and gorgeously colored. After the two days of solid rain, what better to do than go see a freshly recharged waterfall.
The trail is a gentle slope up until the last half mile or so. Because it is not accessed from within the main park, there were not a lot of people. I hope to do more of those type of hikes- off the regular trail- and explore more of the park that I thought I knew all about.